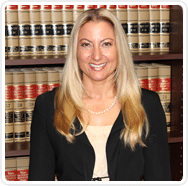 Juliana comes by her maiden name quite honestly. "Guerriero" translates in Spanish, Portuguese and Italian (with a few minor spelling variations) as "warrior".
Juliana Guerriero is a Certified Specialist in Worker's Compensation Law, practicing in the field since 1995. She is President and Managing partner at Cantrell Green, a boutique disability law firm in Long Beach specializing in Worker's Compensation, Social Security, Disability Retirement and Longshore and Harbor Worker's Act Worker's Compensation.  She is Past President of the Long Beach Bar Association, and Past Chapter President and Board of Directors member of the California Applicant Attorney's Association. She is also currently active in the CAAA Women's Caucus. She is Past Chair of the Long Beach Grand Cru, a fundraiser for the Legal Aid Foundation of Los Angeles whose mission is to provide access to justice through the provision of free civil legal services to poor and low income individuals.  She has been selected as a Super Lawyer on multiple occasions.
Ms. Guerriero lectures regularly on Workers Compensation issues and is politically active in advancing worker-friendly legislation through the Legislature and Governor's office. She maintains close affiliations with California Women Lawyers, Women Lawyers of Long Beach, California Applicants Attorney's Association, Voters Injured at Work, the California Bar Association, the Hunt, Ball Schooley Inn of Court, L.A. County Bar Association and the Long Beach Bar Association
At the University of San Francisco School of Law, Juliana earned the American Jurisprudence Award in Legal Research, Writing and Analysis. In addition, she won the Moot Court Best Oral Argument Award, making the Law Review and Dean's List. She published an article in the University of San Francisco Law Review Journal, and earned State Bar of California and Judge Agnes O'Brien scholarships as well.
Raised by schoolteacher parents, Juliana learned, early on, the importance of education. While at Claremont McKenna College during her undergraduate years, Juliana made the Dean's List, received the Distinguished Scholar Award and graduated "Cum Laude" with a major in Political Science. In her free time, Juliana enjoys Pilates, yoga, entertaining and traveling. She has traveled around the world and speaks Spanish.